Music Notes
March 2021 Archives
March 30, 2021 9:12 PM
The St Kateri Music Ministry will be providing the meals for Hillcrest House on Saturday, April 17, 2021. As a result of this pandemic, we are not serving hot food. Rather, volunteers are needed to make individual sandwiches for up to 100 people and put in individual lunch bags with a snack and dessert. The brown bags will be brought to the shelter. We can also use cases of individual water bottles for the shelter. Please consider helping out by preparing a sandwich, including dessert and snack for the adults at Hillcrest House; or providing a case of water. The meals are to be put in a bag and labeled with its contents and brought to St. Kateri (in front of parish office building) between 2:30 and 2:45pm on April 17, 2021 to be loaded into cars.
---
March 30, 2021 9:08 PM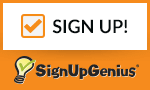 ---
We're interested in your feedback! Please email Nina if you have any comments or ideas about the website.